After the wonderful FC-related visit to The Netherlands I still had to go through both Belgium and France before entering England, home of Manchester and Broadhurst Park, my final destination.
After the night-marish ride from The Hague to Vlissingen in Zeeland, I had a very easy and short stretch of 40 km into Belgium and Bruges. Bruges is a lovely city with a very beautiful and romantic inner city core with old buildings, tourists taking snap shots, beautiful canals, horse carriages and narrow alleys filled with belgian chocolate, waffles, musketeers doing weird computer art and of course belgian beer! I spent an extra night there, resting up and giving my taste buds a treat.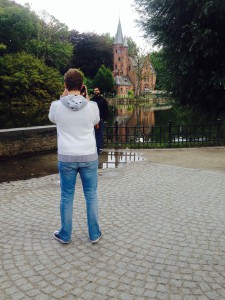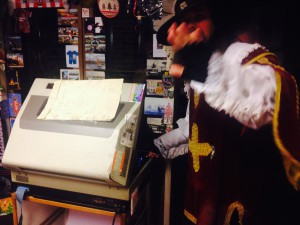 Before I could experience all that though I got myself locked inside the toilet. The door handle fell off from the inside and I had no way to get out. However, thirty minutes later I was expelled from my prison. After trying many things including a sawed-off razor, I finally was able to use a pair of     scissors to open the door from the inside. Not exactly McGuyver but close enough 🙂
After Belgium and Bruges I headed straight to Calais, a quite long stretch of 134 km. Just a few kilometers from the border to France all the cycle lanes disappeared and the rest of way through France I had to make due with riding on the road together with all the cars. It was quite alright though and I guess a good way of preparing for biking in England. I also broke a spoke on the way but some duck tape fixed it right up. I've been quite lucky with the bike so far. No flat tires and no major break downs. Knocking on wood.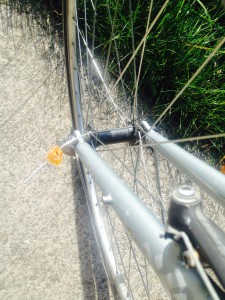 I arrived in the late evening and basically just slept and got ready for boarding the ferry to Dover in the morning. I got on a late ferry due to a sleep-in and arrived in England around 14.30.
Another blunder was that I thought that it would only be about 60 km but it was actually more like 90. I also had to fix the spoke and therefore did a bike check in Dover. While I waited I had a long awaited cask ale!
All in all, I left Dover around 16 and wondered if I was gonna make it to Gillingham before dark. Well, I didn't. Not even close. The route mostly consisted of small roads which meant I had to stop and navigate quite a bit. The first 30 km took me more than 3 hours due to navigation malfunctions and when I headed out of Canterbury it was already starting to darken. The last 30 km I couldn't hardly see anything and had to use my head lamp in order to look for pot holes and the road ahead. On top of that it started raining. But in a way I liked it. It was a nice challenge and it felt a bit adventurous.
During the hours of darkness I got in on a small biking path taking me past a few houses, each having an angry dog barking at me. One or two houses had the gates open so the dogs started chasing me while I was pedalling like crazy in the dark, neither seeing the crazy dog nor potential pot holes in the road. It gave up after a while though but it wasn't the most pleasant of encounters so far. I also got really scared by a big horse that suddenly appeared on my right side on another dark and narrow dirt road.
The temperature hit 9 degrees Celsius at the lowest and when I arrived about 23.15 I just went straight for the hot shower. Well deserved!
The day after was more of a easy ride for me. After riding about 25 km I met up with Graham Voaden, a fellow FC fan, who is going to accompany me on my last few days up to Moston. We were initially going to meet at a cyclo park where they had some BMX competition but since Graham made a navigation error (I know the feeling) we decided to meet up att Dartford FC's home ground instead to watch a match of non-league football. I had time to check out the BMX-surroundings but as it was mostly crowded by young adrenaline-pumped teenagers I decided to move on. I'm getting old, I realized.
We finally met up at Princes Park, Dartford's home ground which is quite spectacular. They have a grass roof and has built the ground with sustainable material as well as doing water recycling and a lot of other environmental considerations. The match was quite flat, a 0-0 draw, but we had some good beer and started to get to know each other a bit.
We then went through London, which of course took a long while but the trip felt shorter due to Graham's stories on the way. Tower bridges, cathedral's and other monuments aside my highlight was the view of a little pub that had been the place where a lot of Manchester United gathered after an academy game away to Charlton on the 13th of May 2005, the date for the hostile take over of United by the Glazer's. I can just imagined what was said and felt that day.
Tomorrow we head up towards Moston and it will take us four days to finally reach Broadhurst Park. We will arrive on the 28th in the evening. Join us if you like!
We're also planning a cerimonial bike ride from Broadhurst Park to Stalybridge before the match on saturday. More details here!
Donation count: 16 836
Kilometer count: 1994 + (134 + 91 + 70) = 2289 km