Another three days has passed and I now have a day off in Borås where I'm about to meet my friend Hendrik whom I met the first time in Manchester. He's a huge United-supporter with a season ticket at Stretford End so I bet we're gonna talk a lot of football.
My last three legs has been between Katrineholm – Askersund (111 km), Askersund – Falköping (134.5 km) and Falköping – Borås (88.5 km because of a small detour).
After the first scorching three days I was hoping for a little less sun and boy did I got more than I wished for. Just 25 km outside of Askersund I went in to a hale and thunderstorm that lasted more than an hour.
I was soaked from head to toe even though I wore my rain jacket. My shoes were more water than shoes and I took cover at a supermarket and tries to find some bed & breakfast to spend my night in cause I was so cold and soaked. I finally found one and when I started off towards the B&B the sun was shining again. The time of the evening sun has been the most precious time for biking so far. Everything is calm, beautiful and cool. Have had some amazing evening rides so far during this trip.
Either way the B&B was very nice and the people there even nicer! When they heard I was going on a charity bike ride they gave me the room for free! Thank you Dohnafors vandrarhem!!
Hade some more rain on monday but yesterday was perfect weather all day. Changed my route from Gothenburg to Borås cause I first thought that Hendrik lives in Gothenburg when he actually lives in Borås. Was invited by another friend for a go-cart-race but didnt got there in time.
I have some reflections so far that I'd like to share: 
1) Sweden is so beautiful and a perfect place for biking. Such great and varied nature with crystal clear lakes, thick pine forests, golden open fields, cows, horses, deer, foxes, rabbits and even ostrich!!! Add to that the fact that you by law basically can camp anywhere you want and you get a recipe for success.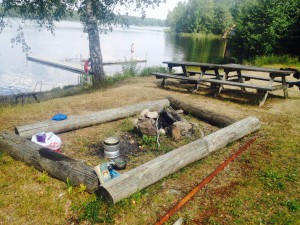 2) People are very generous when given the chance. Already we've raised 7500 SEK and I've experienced similar things before when I've done some other fundraising. Basically people want to give but they don't want to be guilted or pushed into giving. Present a trustworthy, good cause and an opportunity and our tendency to care for others will emerge. I think that's also why FC United is so socially successful. Anyhow, I see this not only in donations that are pouring in both from Sweden and from FC fans but also in all the support I get by people I meet and by people online. If I ask someone for some water I sometimes end up with a few bananas as well. Lots of love to you all!
3) I feel okay physically and very good mentally. The only worry is my back which have troubled me for a month or so and keeps on reminding itself. That's why I've decided to toss my tent in Helsingborg and couch surf or use hostels the rest of the way. Less kilograms and better sleeping. All the support I get on the way really give me an energy boost. I'd like to thank everyone for their kind words and cheers.
I've only got three more legs in Sweden. Could we make it to 10000 SEK before I reach danish soil!?
Until next time!
Kilometer count: (111 + 134.5 + 88.5)  + 257 = 591 km
Donation count: 7921/10000 SEK