As I've finally arrived to England, spending a rest day in London, I finally have computer time enough for updating this blog. I'll probably make two or three blog posts out of this since there's been quite a few nice moments during this time. First I just have to say thank you for all the great donations that has poured in upon my arrival to England. I wanted to reach 15000 SEK before entering England and it happened and more. Now we're up to 16 863 SEK which make me think that the goal of 20000 SEK to Doctors without borders will probably be realised! 🙂 To help the cause further, donate here!
The Netherlands, home of tulips, mills, canals and locks, was all about FC as it happened, since I met three (soon to be five) very passionate FC United fans.
Last time I wrote I had just arrived to my friend Renske in Zevenaar, which now feels like ages ago. I had a very lovely time in Zevenaar, just resting up and catching up with my dear "cuban" friend. Renske is also one of those people that I've met during my travels that has made a serious impact on me and whom I'm extremely grateful to call a friend. She's smart, funny, beautiful and on top of this generous enough to let a dirty, sweaty swede crash there for a few days. Thank you Rens, I'll be sure to return the favor in Sweden soon enough!
After Zevenaar I went to Culemborg and since the biking in the Netherlands is so easy nothing really exciting happened on the road. But driving along the canals is a very nice way to spend your time, I have to say.
In Culemborg I had my second FC-related encounter during my trip. Here I met Rob Young a young dutch guy who's been following FC from the start as well as working with the Armchair Army and doing quite a few trips to watch FC. I had a wonderful time with Rob and his parents who showed me great hospitality.
They lived on the country side in an old farm establisment and when I arrived Rob warned both about his half-crazy and dangerous rooster and his not so visitor-friendly dog. But in the end I survived 🙂
Rob took me on a guided bike tour around Culemborg which was a very beautiful, old "free city" and a very calm one as well. Even though it was a friday night I hardly saw a soul.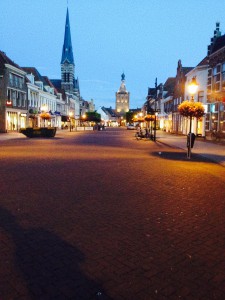 I left Culemborg the morning after together with Rob who biked alongside me the first 12 kilometers. Always nice with some company on the lonely roads! 🙂 Thanks for the hospitality and good luck with your travels Rob!
Next destination The Hague, where the FC Tour continued. I met up with Ruud van de Graaf, who is a fan-owned football enthusiast as well as a guest blogger on this blog. You should definitely check out his facebook pages: "The Fan Owned Football Community" and "The Romance of Football" if you haven't yet! Lots of great material from the non-profit focused world of football.
I arrived to a warm welcome by Ruud and his lovely family. Ruud's wife Malena is peruvian and the way they met is a beautiful story which is not for me to tell though but what I can tell you is that she had prepared a wonderful dish of peruvian food for me which I was very grateful for. In the evening me and Ruud hit the beach boulevard of The Hague and unbeknownst to us there was a fire work festival in town which illuminated the night even further. Talking with Ruud is a great pleasure since he knows a lot about the weird, wonderful side of the football world. The next day Ruud showed his excellent tour guide skills as he showed me around the city and all it's great sites. But the highlight was a small art gallery with a great panorama of the old village of Scheveningen, an absolute must if you're ever in the Hague.
After the tour we were joined by another FC Fan, Richard Parkinson as we listened in on the first FC match on the season through FCUM Radio. Richard had just moved (actually on the same day) to The Netherlands and despite that found his time to meet up with us for a short while. A very nice, easy-going man it was a pleasure to meet.
Three nationalities, one club – FC United really represent the beautiful side of football. A club which is owned by us, it's members and which has the power to unite people from all over the world. I'd never would have met Ruud or any other of the great FC fans I now know hadn't it been for this club. With all the other bigger clubs you are more and more treated like customers, with FC United you are a part of the family, a family that just keep on growing! Just look at the soon to be Peruvian Branch below?! 🙂
I left The Hague the next day very happy with the memory of the warm and loving van de Graaf family!
The last day and night in Holland proved to be the toughest leg of my journey so far. 120 kilometers along the coust with a lot of strong wind coming from the sea as well as 4-5 crazy rain storms where the strong wind made the rain drops feel more like hale than water.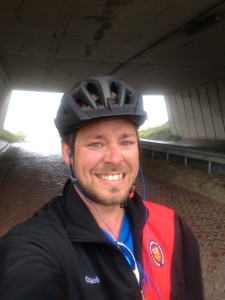 Luckily I met two very funny dutch girls on the way who made the last 25 km feel like nothing. They had set out for a 100 km journey as a challenge for themselves and I'm happy to tell you that they made it!
The day after I finally made it to Belgium, but that is another story!
Donation count: 16863/10000 SEK
Kilometer count (until Bruges, Belgium): 1669,5 + (82 + 81.5 + 120 + 41) = 1994 km