Been a while since I wrote now and that has to do with the lack of a computer. I am now currently in the Netherlands having pushed through 1670 kilometers. The latest donation count was 12550 SEK which is really good. My goal is to reach 15000 SEK before I reach UK and then to reach 20000 SEK in total before the journey has ended. If you want to help me reach that goal, donate here!
I left Copenhagen and my friend Nanna around noon since we run into a thunderstorm on our last night which lasted the whole night and a little more.
Denmark was very easy to bike in as it's very flat, a lot of bike lanes and easy enough to navigate. I tried to find some kind of couch surfing accommodation but it was easier said than done so I ended up spending two nights in budget hotels on my way down to Germany.
In he small town of Prasto I lost the key to my lock just seconds after I used it. Still can't wrap my head around that disappearance. That took me to a bike shop where I also took the time to do a bike check. They repaired my luggage holder, adjusted my breaks and I also had to change my front deck since it was pretty close to breaking.
Germany
Germany has been a great experience since I decided to couch surf the whole way through the country. I met so many different people with different interests and backgrounds and it made me really appreciate how great it is to travel with couch surfing.
First stop was Neustadt-in-Holstein where I spent two days with a great guy called Florian who happened to be a huge Tolkien-fan and told me everything there was to know about the ages of Tolkien and the genealogy of different races. Very interesting since I've always liked fantasy quite a bit myself.
We added a few flagons of beer and thus a recipy for a great night was set.
In the morning Florian had to go to Kiel for a study session and I tagged along and then had the opportunity to meet up with Sebastian Kristen who's been following FC United for a while now. As a German he has no shortage of great football in his own country but still British football drew him in thanks to the traditions, culture and the great song tradition found on the British Isles. It was a very interesting talk centered around the development of football these last few decades and since Sebastian has written a thesis on the subject he knows a lot about it. The thesis took Manchester United as a case study and an example as to how football clubs rooted in working class tradition transforms in to gigantic business machines. He also addresses FC United as an example of what can be the reaction to these kind of transformations. Very interesting stuff! I'll be sure to publish the thesis here when it's finished!
Next stop Hamburg where I met Barbara and her sister. Barbara was busy until 21.00 so I spent the time checking out the city park as well as enjoying a shisha break in a small restaurant just outside of Hamburg.
I didn't spend much time with the girls since I arrived pretty late and since they were leaving for a canoe trip early in the morning. But the time I spent with them gave me enough joy and we did have enough time for a long conversation about life in Germany. Very smart, friendly people with generous hearts. They gave me the outsider's view of Germany, how it feels like to come from a different culture and meet the challenges of everyday german life. I forgot to take a picture of them but they sent me one from there canoeing trip and as you can see there's a lot of energy and warmth in those smiles!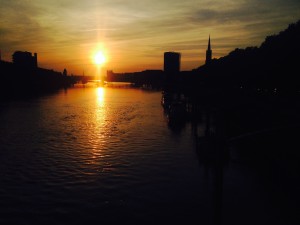 After Hamburg I went straight to Bremen and I think that leg was the toughest so far. Lots of head wind of 122 km thanks to a very flat landscape and a pretty stormy day.
On my way there I had one of those chance encounters that are so nice when you're on the road. I went in to a pub to take a small break and ended up having a great conversations with these friendly guys before I ventured on.
But I finally arrived in the city of Bremen and met up with Henning, another couch surfer. We instantly clicked and had a long interesting conversation about life over a few beers (!) and in the morning I woke up to a breakfast made for kings as Henning outdid himself when it came to hosting! 🙂
The next day took me to the small city of Lindern but before I got there google maps played me a little prank by guiding me out on the road seen below. I tried hard to bike but got stuck constantly so I just had to suck it up and walk a few kilometers instead.
Finally in Lindern I had another great couch surfing experience when I met Frank who lived in a great house and offered both beer and barbecue upon arrival. Frank has travelled the world as an engineer and is  a big truck enthusiast. Above is a picture from his work shop where he has got at least six different cars in different states of development. He travels around Europe doing outdoor driving and it was really cool to get a peak into his world even though I'm not a big motor enthusiast myself.
All in all, couchsurfing Germany has been so good to me. It has giving me the opportunity to look into world I would otherwise never known and I've been able to connect to many different personalities and characters. I recommend everyone to try it for themselves.
Now I'm in the Netherlands and I'm first meeting up with a great friend of mine, Renske, whom I also met in Cuba. A great person and a great dancer, we reminisced about Cuba as we listened to all the great music we encountered during the trip as well as doing a little bit of Cuban salsa and some Bachata just for the hell of it.
Will spend a few rest days here before continuing along the canals towards Culembourg and Den Haag where I will meet up with fellow FC fans!
PS. It wasn't all friendly in Germany. Suffered another wasp attack (third time so far, they really must hate charity bikers) and this time the little bugger left it's stinger as a "so long and thanks for all the fish". DS.
See you in Moston soon! I plan to arrive on the 28th of august!
Donation count: 12550/10000 SEK
Kilometer count: 910.5 + (92 + 78 + 92.5 + 97 + 121 + 84.6 + 106 + 88) = 1669,5