Over 5000 SEK now. Brilliant. If we keep this up we'll go way over 10000 SEK!
Day 2: Stockholm – Mariefred
Got out of Sthlm late due to a somewhat late night and as I started pedaling it was scorching already. Great idea Linus to start the bike ride on the hottest period in Sweden for a long time. And let me tell you it also takes a long time to navigate yourself out of Stockholm but it does offers some spectacular views over Mälaren.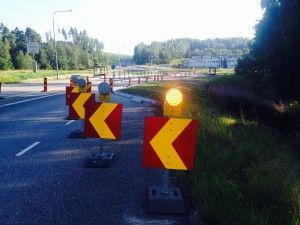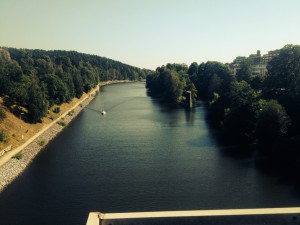 It was a great trip to Mariefred on both gravel and asphalt and through some beautiful old mill environments.
Top 3 moments of the day:
Nasir – the hero of the day
My iPhone lost it's touch function just outside of Sodertalje and I feared I would have to manage without it on my trip something I wouldn't know how to since I use it for updates, navigation and such. I even managed to get on to the highway a bit later because of that. But a friendly man in a computer store in Sodertalje solved the problem. Thank you Nasir from Databutiken!
The last 30 km to Mariefred
A beauty! Great asphalt and a lot if downhill that sent me up to a speed around 50 km/h at max. I had great music in my ears and the sun was shining albeit not to hot. Couldn't stop myself from screaming like a mad man.
Friendly neighbours
I arrived pretty late to the camp site but I had the fortune of getting a tent place just next to some really friendly folks. They offered me power to charge my stuff, a glass of wine and some nice stories. Thanks, it was very appreciate!
Day 3: Mariefred – Katrineholm
A day mixed of small gravel roads and big asphalt roads (roads 55). Had a meltdown in the beginning but otherwise a good day fitness wise!
Top 3 Moments of the day
Breakfast at the lake
Woke up early in the morning and had some breakfast at the lake. Gripsholm's castle and Mariefred was visible from the beach and I could not do anything else but smile and go for a morning swim.
Breaking down after 15 km
Apparently I didn't eat enough the day before because I felt really dizzy and had some pain in my belly already after 15 km in the already 30 degree heat. Had to sit down eat a little and drink some more water. Was a little bit nervous over the fact thy I didn't have much food with me and that I there was at least 30km to the nearest store. Which takes me to the next precious moment.
Chased by wasps
Hungry as I was I decided to find a shady spot and cook some food. I had just managed to unpack my mini-kitchen and a few more things when a group of angry wasps started to circle me. They were aggressive enough that I had to run away. Damn it, I thought, I need to consume energy not use it up. Since the wasps didn't give up easily I had to run back and forth at least five times in order to get my stuff. On the last try I spilled the only water I had left which forces me to grab my bottles and run into a lone house that lay opposite the angry wasps. There an old woman invited me in and shared the fact that this was the hottest period since 1975 according to her recollection. Water I got and after that I thought I would be left alone by the wasps as well. Nope, one of them followed me at least 1 km. Crazy! But actually the wasp attack got me fresh again and gave me the energy I needed. Ironic!
Until next time!
Donate count: 5221/10000 !!!
Kilometer count: 82 + (95 + 80) = 257